FAQs
Should I be feeding my red squirrels?
Providing appropriate supplementary food to red squirrels can help populations get through the hard times and improve their breeding success. If you are feeding red squirrels please read our supplementary feeding guidelines to help you provide them with an appropriate and healthy diet.
If you are living in an identified pox outbreak area we advise that you cease all squirrel feeding as this attracts both species and leads to increased contact which can increase the spread of the disease.
How often should I report sightings?
If you have a regular population of red squirrels in your area please let us know at least once a year how they are getting on. If there are any significant changes to the population (such as a major increase or decrease in numbers beyond normal seasonal variations) during the year please let us know. If you have an incidental sighting of either a grey or a red squirrel please let us know every time. To report a squirrel sighting either complete our squirrel sightings form or contact us directly via email.
How do I tell a red squirrel from a grey squirrel?
Red Squirrel
Sciurus vulgaris

Grey Squirrel
Sciurus carolinensis

Body Length:

20-22cm

25-26cm

Ears:

Tufted, especially in winter

Never tufted

Tail colour:

One colour all over but can be vary from dark reddy/brown colour to a light "bleached" appearance

White/grey giving a "halo" effect

Body weight:

300g

500g

Shape:

Slender

Stocky

Habits:

Often shy, spends time high up in trees

Bold, often seen on ground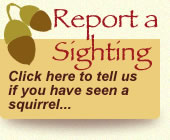 Please note this link will open a new window which will take you to the Scottish Wildlife Trust website where you can record your squirrel sightings.
Website by
Stewartry Technology