Red Squirrel Facts & Information
Natural History of Red Squirrels

Squirrels in the UK: Past, Present and Future

Threats to Red Squirrels

Grey Squirrel Control

Trap Loan Scheme

Disease in Squirrels

Squirrelpox Virus

Post Mortem Protocol

Habitat Management for Red Squirrels

Shrub and Tree Species for Red Squirrel Conservation

Squirrelpox Surveillance Program

Monitoring Squirrels

Supplementary Feeding

Squirrels (1987) Jessica Holm. Whittet Books Ltd. London.
All About Squirrels, Scottish Natural Heritage and the Forestry Commission.
The Natural History of Squirrels (1987) John Gurnell. Christopher Helm, London.
Red Squirrels, Scottish Natural Heritage (Naturally Scottish Series).
The Red Squirrel (1994) John Gurnell. The Mammal Society, London.
The conservation of red squirrels, Sciurus vulgaris L. (1997) Eds John Gurnell and Peter W. W.
Lurz. People's Trust for Endangered Species, London.
Red Squirrel Conservation (1998) Harry Pepper and Gordon Patterson. Forestry Commission,
Edinburgh.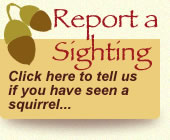 Please note this link will open a new window which will take you to the Scottish Wildlife Trust website where you can record your squirrel sightings.
Website by
Stewartry Technology