Welcome
You have reached the Red Squirrels in South Scotland website. This project merged with the National red squirrel conservation project Saving Scotland's Red Squirrels (SSRS) in April 2014. For further information on the SSRS project and work in the south of Scotland please visit the official project website http://scottishsquirrels.org.uk/
Scotland is home to over 75% of Britain's endangered red squirrels with the country representing one of the last strongholds for the species in the UK.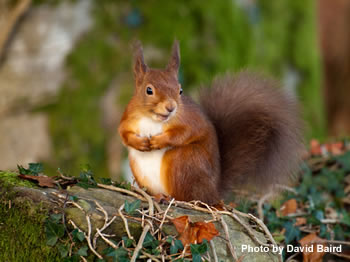 Our aim is to maintain south Scotland as a stronghold of our native red squirrel and to protect the rest of Scotland's red squirrels from the deadly Squirrelpox virus.
Incursion and establishment by pox carrying grey squirrels is now the single largest threat to red squirrels in Scotland. The Squirrelpox virus is harmless to greys but is lethal to the native reds, with squirrels dying a horrible death over two weeks. The Squirrelpox virus also has the devastating effect of speeding up the rate at which grey squirrels displace and replace reds (usually about 15 years) by a factor of twenty, denying researchers adequate time to develop an effective vaccine for reds or a contraceptive for greys, along with targeted ways of administering them. The current lethal grey squirrel control effort is essential in order to ensure that red squirrels survive long enough to benefit from future non-lethal methods of control.
Funding to save Scotland's red squirrels will continue for another two years (April 2012-2014). Funding for this next phase has been provided by Scottish Natural Heritage, the Scottish Wildlife Trust and Forestry Commission Scotland. This new phase will see the Red Squirrels in South Scotland Project join forces with the Saving Scotland's Red Squirrel Project to form a national project across Scotland.
Environment Minister Stewart Stevenson said red squirrels were one of Scotland's "most recognisable and loved animals". "In the three years since SSRS was formed, and together with the work being undertaken by Red Squirrels in South Scotland, we have seen some positive results as we work to halt the decline of the red squirrel numbers - in some regions, numbers are actually increasing," he said.
'The 132 years since the introduction of the American grey squirrel has seen the rapid demise of our native red. Scotland in now home to over 75% of the entire UK red squirrel population. We are their best and last chance'.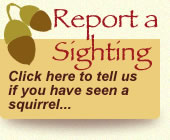 Please note this link will open a new window which will take you to the Scottish Wildlife Trust website where you can record your squirrel sightings.
Website by
Stewartry Technology